LED (12 Light) For Paper Lanterns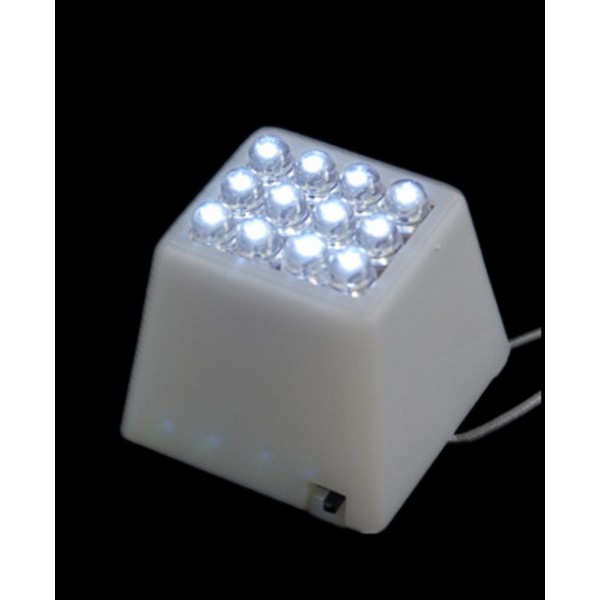 Quantity in pack: 1.
LED´s: 12 super efficient LEDs.
Size: 1-1/3"W x 1"H
Batteries: 6 CR2032 (Included).
Battery life: 12+ hours. The battery life indicated is based on using new quality batteries.
On/Off switch: Yes.
Replaceable batteries: Yes.
Hanging cord: 10" (254mm) flexible hanging cord included.

Suitable for use with paper lanterns: From 6" to 36" This LED battery powered light comes with 12 super efficient, ultra bright LED that provides a white glow. Each unit comes complete with six CR2032 batteries and a 10" (254mm) flexible hanging cord making attachment to the paper lantern very easy. It will run for at least 12 hours and includes an On/Off switch for easy use. This unit is 1-1/3"W x 1"H, and is suitable for illuminating paper lanterns from 6" to 36" in diameter.

These units are meant as an inexpensive solution for your evening function. Use several lights paired with white or coloured lanterns to create a brilliant design during your night-time festivities. Depending on your event you can either switch the units on when the sun goes down or you can switch them on before the event starts.

All our battery powered LED lights feature replaceable batteries so you can reuse them time and again.

For weddings, parties, events and product launches where paper lanterns are mainly used as decorations; battery powered LED lighting units can easily be hung inside the paper lantern, to add some mood lighting to the event. While mains powered lights can also be used for weddings, parties, events, product launches etc. the simple solution is to simply hang battery powered LED lights inside the paper lantern.